Blue Cenote or Cenote Azul is one of the most popular cenotes in the Riviera Maya, Cancun and the Yucatan Peninsula.
Its location between Playa del Carmen and Tulum, its turquoise blue waters, the amount of shallow areas, being an open type cenote and its facilities, make it one of the must visit cenotes.
Attractions and activities at Cenote Azul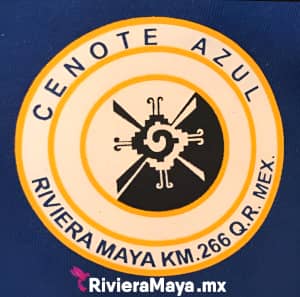 One of the biggest attractions of this "L" shaped cenote is that it has areas with different depths which generates spaces suitable for the whole family.
Just as you enter the cenote facilities you will find the first two pools, these have a shallow depth, are shaded and have fewer tourists, although the water may be colder.
Continuing on you can reach the main swimming area, a natural open-air pool that is divided into two areas: a deep area and a shallower area. This is the most popular pool in the cenote.
Cenote Azul is one of the largest in the Riviera Maya and allows for a wide range of water activities:
Activities
Relax and have a good time. As simple as being in one of the shallower areas of the cenote, choose a spot and enjoy the water and have fun with your friends and family.
Swimming. In the main area you can swim; if you are not a good swimmer you can rent a life jacket or stay in the shallower areas.
Snorkeling. Use your own equipment or rent it and enjoy the crystal clear waters of the cenote and even better, enjoy swimming with fish of different types and sizes. It's worth it.
Dives. If you like adrenaline: In the deepest area of the cenote there is a natural platform from where you can jump into the water in your best diving position. The jump is approximately 4 meters high.
Picnik. You are allowed to bring food and there is a small store inside. Alcoholic beverages are not allowed.
Feed the fish. Inside the park you can buy fish food and watch as these little animals swirl around your feet.
Visit more cenotes. Being so close to other cenotes, you can take a mini cenotes tour. Nearby cenotes include Cristalino, Kantunchi and Jardin del Eden.
Scuba diving. It is possible to dive to the depths of the cenote in routes for beginners or advanced divers.
Local wildlife spotting. In addition to the rich bottom of the cenote, also see and hear many local birds, iguanas and if you look for them, even bats in the small cave.
How to get to Cenote Azul?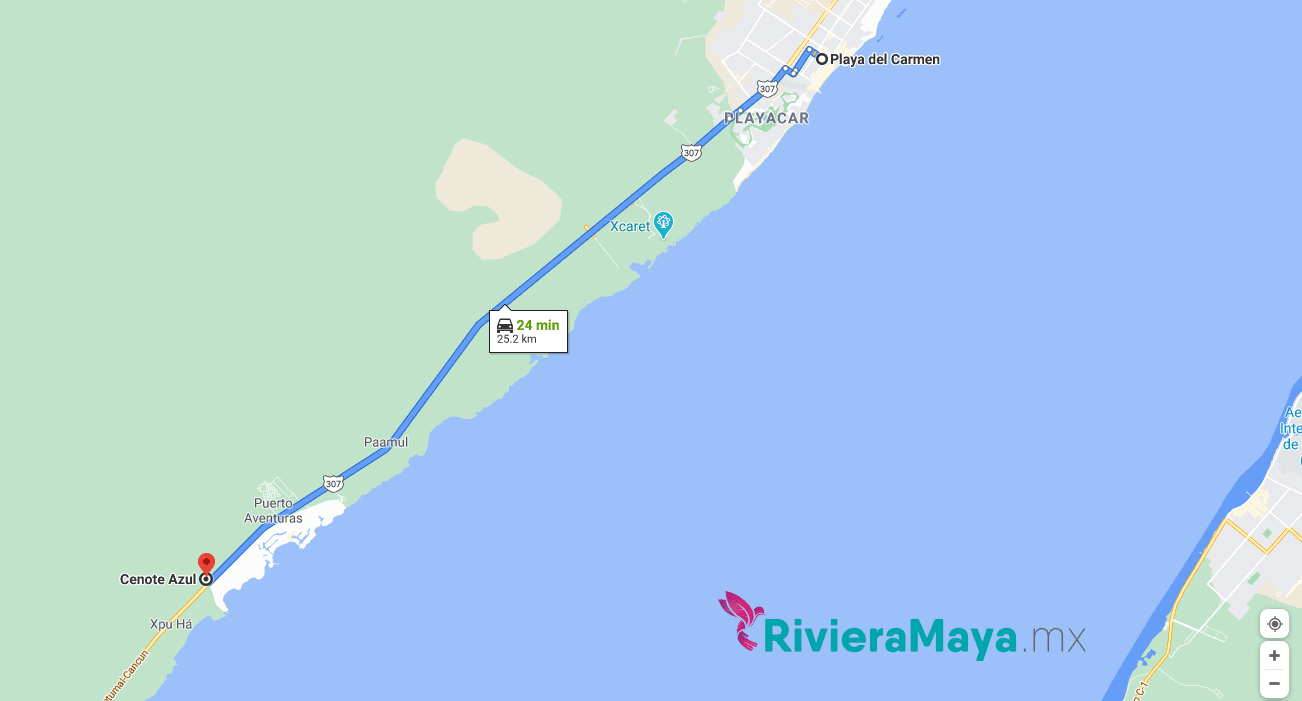 The blue cenote is located 25 kilometers (15 miles) or 20 minutes from Playa del Carmen and 40 kilometers (25 miles) from Tulum; at kilometer 266 of the Cancun-Tulum highway. As a reference; it is located in front of the Barcelo hotel and next to the Cristalino and Jardin del Eden cenotes.
By public transportation it is possible to get there using the collectivo between Playa del Carmen and Tulum and asking to get off at the Barcelo hotel or directly mentioning the name of the cenote. The cost of the collectivo is approximately $1.5 USD or $30 Mexican pesos.
It is feasible but a little more expensive to make the trip by taxi from Playa del Carmen or from Tulum. Prices vary by season but it is advisable to budget with more than one cab driver before taking the trip.
It is easy to get there by own or rented car and it is cost-effective if you are in a group of several people.
Facilities and services
Bathrooms.
Lifejacket and snorkeling equipment rental.
Basic convenience store.
Parking lot.
How much is the entrance fee to Cenote Azul?
The general admission fee is $120 Mexican pesos ($6 USD), $100 pesos for Quintana Roo residents and $80 pesos ($4 USD) for children 4 to 8 years old.
Working hours
The cenote is open from 8:00 am until 5:30 pm every day of the year.
Contact information
You can contact the cenote administration in two ways:
By phone: +52 984 151 9925.
Website: facebook.com/CenoteAzulRM/